I have a few giveaways up my sleeve for you dear readers, and am finally carving out some time to post about them!
And I'm starting with our basement reveal, including a giveaway from
Eights Squared
.
But before I get to the giveaway, I must gush over how much we are loving our DIY refinished basement! I think this is probably the biggest undertaking we've done on the house so far and it took us the longest of any other project, since we first started cleaning out the basement a YEAR ago to get it ready for the remodel. Hilarious to think we originally estimated that it would be complete by last Christmas so my family could sleep down there during their visit in 2013. We were only off by a year;)
The original intention of finishing our basement was to provide 'guest quarters' for visitors, since putting an air mattress down in the sunroom was getting a bit cramped. And with my mom visiting so frequently (plus Memaw and Pepaw, my dad and brother, etc) it only made sense to make a more defined area for her. But also, we really got a fire lit under us with this project (relatively speaking) when we found out I was pregnant with Porter last year at this time. Because Nate really felt like we'd need more living space for our growing family, too. And thus, we began brain storming ways to make this space serve a dual purpose: comfortable area for our visitors and also a place our family can play/watch TV/spend time on a regular basis.
The more we discussed it, the more I really pushed to have a full bathroom and an actual bedroom down there along with a living space. So at first, that is what Nate and his dad tried to blueprint. But as we got more into planning for a huge renovation that included a bathroom and bedroom, the more we realized there was just no way we could do that ourselves. So we got an estimate and apparently the plumbing for the bathroom and the Egress window for the bedroom would require a 60k price tag. Holy crap. No. Not worth it, since if we DID have an extra 60 grand floating around I would not want to spend it on the basement (too many other projects!). Eventually I relented on the bathroom idea. And it took me awhile longer to let go of the bedroom with a door and closet and Egress window. The guys were talking about jackhammering our foundation to get the window in themselves and again, no. Egress windows are super expensive and although a fourth bedroom will be key for us *someday* (I think), I don't think I'd want one of our kids sleeping in the basement while the rest of us are two flights above them. So it didn't seem worth the cost if we hired out and the effort if we tried to do a bedroom ourselves.
I also really wanted an actual BED in the basement for my family when they visited but I had to let that one go, too. It was just going to be way too crowded down there if we did couches for a living space plus a bed for visitors. We thought about a cool Murphy bed, a futon, or a pull out couch but in the end our Aerobed is actually super comfortable and easy. So for now we are just doing that for visitors---we actually have one queen Aerobed and then one twin air mattress and apparently both are comfortable enough for visitors, and easy to set up/take down.
We decided to do the front part of the basement and leave the back unfinished, but it could potentially turn into a bath and bedroom someday if we get rich. (Ha). Also, we still have about 1/3 of it unfinished for storage and Nate's tool area no matter what, and then we finished off a little less than half of the total area. Does that make sense? So 1/3 is unfinished and the tool/storage area, then a small section is my laundry area and unfinished (but could be a bath and bedroom someday), and the rest is finished--which is not quite half of the entire basement.
So. We started by cleaning out the left side of the basement which used to be just storage and the laundry area, and and old 'fruit cellar' was in the corner. The guys tore down the cellar, which we used for Nate's tools, and we put the tools on the right (unfinished) side. It should be noted that our floors were just concrete, the walls were cinder block, and the ceiling has a ton of pipes exposed. So truly, VERY unfinished before product.
BEFORE:
No more fruit cellar, going from left picture to the right! And sort of cleaned out, ready for reno.
Next Tony did a bunch of electrical work to create outlets for us. He also redid some of the plumbing because he didn't like some of our old pipes. The man is amazing, I know. Then came insulation. Then wooden supports to rough out the walls. Then dry wall. Then we decided to spray paint the entire ceiling with a flat black paint, leaving it all exposed so that we didn't have to do a drop ceiling and lose height. My friend Hannah did this with a basement remodel and I was obsessed with how 'urban' it felt to have the pipes exposed but painted. And it turned out awesome! Super super messy part of the remodel but worth it, for sure. If we had to do a real ceiling I think it would be way too low and not feel quite as open.
Big helper Truman with his flashlight.
Let me pause to say that all of this labor was done by Nate and his dad. I did not lift a finger with any of this stuff but my job was basically watching the kids as they slaved away in the basement nearly every weekend;) Also, Tony would come over on his days off to work a little bit here and there, since he has really reduced his hours at work (but isn't fully retired). Nate and Tony genuinely enjoyed their time together down there, I think. It seemed super tedious but I didn't hear too many curse words either so it must have been fairly rewarding to do it all;)
After the drywall was up, on top of insulation and the wooden beams, and after the ceiling was painted it was time to 'mud' the dry wall. Lois got in on that action since she is really good with patching old plaster walls in their house. Then Nate and Lois primed and painted the dry walls ( I selected my favorite gray color that is Behr's Dolphin Fin---way to go, Julia!! I was super pregnant at this time though, so they really didn't want me down there at all breathing fumes. Fine by me!).
Then Tony added the baseboards. Oh and at some point the guys added two new doors---one that leads into the laundry room, and a new one that leads into the unfinished tool side. They then added trim to the doors and windows, and then all of the trim got primed and painted white. The doors were stained dark after some deliberation by all of us. Then the guys installed two new glass block windows to replace our old nasty ones.
Once that was all completed we picked out carpeting and actually paid to have it installed, which I think killed Tony because he thought we could do it but no---definitely worth the cost to pay the pros with that one. Our basement is 'dry' but even then, it's still important to make sure that no moisture is coming up from the concrete flooring underneath. So we went with carpet from a local shop that has this moisture barrier pad first, then the carpet on top. We picked a light gray color and it's super soft. I was obsessed with smelling the new carpet smell those first few weeks, too---it's the only area of the entire house with carpeting and we love it!
Hi, carpet installer dude! Don't mind me, just sneaking a picture of the process! And the kids and Henry love the carpet!
Once the floors were done and the walls painted, trim painted, doors installed we were basically done. But then we hired our old neighbor who also helped us with our kitchen remodel, and he made us a giant storage shelving system for our TV wall. More storage is always better in my book! Nate hung the TV, I got to work buying and hanging picture frames, and we moved some of our toys downstairs. The couches are my super incredibly old ones from 2005 when I graduated PT school, but they are hanging in there! We had the love seat in the sunroom at first and the bigger couch was still in the upper duplex, so it was easy to get both of those down in the basement. The side table is also an old one we had in the attic, we bought the soft storage ottoman at Target, and a bunch of lamps from our beloved 'Red Store', too. I ordered a few new canvases from
CG Pro Prints
and then moved existing canvases downstairs, too, to create a big old wall of canvases;) The bins for the big shelf came from Land of Nod and I love them, plus we aren't even filling them up just yet with random junky toys. Plenty of time for that I suppose!!
After those final decorating touches were completed (my big task in the whole project), we added our wall scrabble letters that Ashley from
Eights Squared
generously offered to me in exchange for a review and giveaway. I love how they personalize our space so perfectly because I'm all about making the basement feel homey and fun and like OURS.
And the after pictures for your viewing pleasure:
The back area is mostly for the toys/playing. And that is where my mom's Aerobed goes when she comes.
The TV area with shelves and bins. So much potential!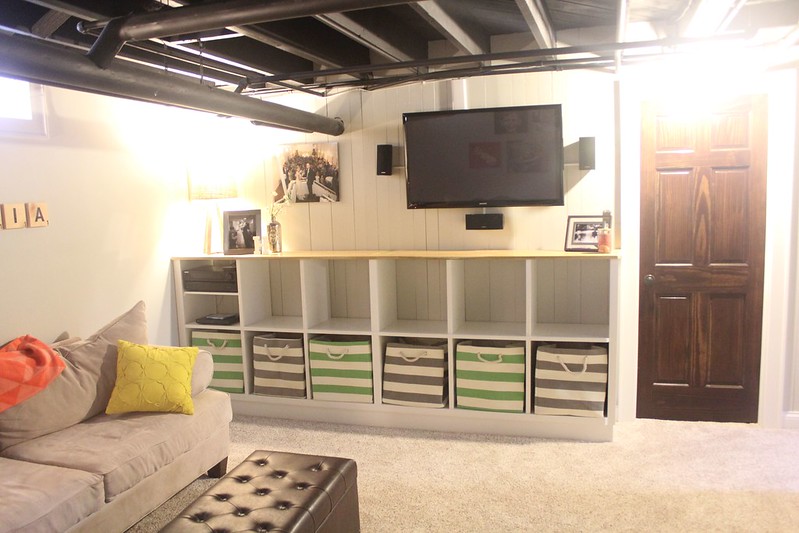 One of my favorite frames: birth announcements, first birthday invites, and then all three 20 week ultrasounds. My babies! I just added some fabric behind these items and voila!
So many canvases...
View from the long couch, looking upstairs and at the door that leads to my laundry area.
And this door leads to the unfinished storage side, and is right at the bottom of the stairs.
And the best panoramic I could manage, just to give you a better feel for the entire finished space.
It's a basement with only two small windows so one thing I don't love is how dark it is down there. Even with three lamps and one overhead light at the bottom of the stairs, it's still quite 'moody' lighting. We thought about doing can lights or something on the ceiling but I think that would be a LOT of work for us DIY'ers. Nate thinks we can do a strip of spotlights, or even wall sconces but the more I'm downstairs the more I don't mind the dim lighting. It just makes me want to cozy up on the couches and watch a few movies (i.e. nap) with the kids, that's all;)
All of this to say that we really love this living space so much! I feel comfortable letting the kids down there unattended, to play and make a giant mess as they see fit. Because it's out of the way of our main living area so who cares if it's a disaster? Also, my parents and Memaw and Pepaw have all slept down there now---the first time being right after Porter was born in July. They report that it's very nice to have their own space and area for their suitcases. Of course it would be better if there was a bathroom for them to use but walking upstairs isn't too much of a hassle, I suppose.
Now for the giveaway! Our Scrabble letters were really easy to apply to the drywall using the velcro 3M Command strips. I love that the light wood actually matches the top of our shelves and also the stairs perfectly, and there is just something about seeing all five of our names on the wall to make the basement feel complete.
Ashley at Eights Squared kindly offered to do a giveaway for one lucky reader that includes 20 tiles, so that you can create your own family wall letters. Also, a 10% discount code for everyone else! Just mention this blog if you purchase from her shop. To win the giveaway of 20 tiles, enter the Rafflecopter drawing below. The image to pin is the first one at the top of this mammoth post. You have a week to enter this giveaway, so best of luck!!
a Rafflecopter giveaway