Things going on lately:
(You posted again, mom? WOW! Let me check my Feedly for an update.)
I've been going to the gym at 5:00 am to get some much needed mommy time/endorphin time that starts the day off right for me. It's just not working to haul all three kids to the gym with me on my days off---it's just such a hassle on our days home together. And since I'm usually up during the night anyway (more on this in bit), waking up at 4:45 am doesn't feel too horrible right now. I just make sure I'm home by 6:30 when the big kids wake up and Nate can handle any Porter shenanigans before that if necessary. I mean, P-man loves his bottles so much anyway (again, more on this in a bit) I'm not all that 'needed' in case of an emergency wake up. But getting out the door, running on the treadmill, listening to a podcast, doing something nice for myself to set my attitude the rest of the day? It's always worth the early morning for me. It's not even about losing the rest of this baby weight (ten-ish pounds), it's strictly about the mental boost exercising provides me. So yeah, running at 5am on the hamster wheel again and seriously loving it. Probably because of the podcast time, too ;)
Also yes, sort of growing out my hair. Only because of sheer laziness because I cannot deal with getting my hair cut ever 4-6 weeks to keep it short. And I did sort of miss a pony tail. Of course, now that I hit the 4 month post partum mark, my hair loss is in full effect (i.e. you don't want to see my shower drain) so I might have to chop it soon anyway. But for now I plan to grow it MAYBE as long as my shoulders. Crazy, I know.
See, it's a pretty long (for me) right now
New running shoes and trying out some compression socks also makes the treadmill extra fun.
A HUGE milestone that must be mentioned here? Porter slept through the night on Thursday, November 20th at 4 months and 9 days of age. Yes, very specific I know, but it's a big deal! There is a God and he waved his magic wand, giving me the gift of sleep---even if it was only for one night. And it was glorious. Porter went down at 8:00pm that night, which is a little later than his norm. I went to bed at 9:30pm, Nate gave Porter a 4oz bottle at 11:00pm without Porter asking for it or waking up. And then the sweet baby slept until 6:45am without making a single peep. Almost eleven hours of sleep for him (not including the dream feed) and a solid 8.5 hours for me. Glorious, glorious, glorious. I'm pretty sure both Truman and Cecelia had already STTN for one random night at this point, too. And the next night he was back to waking up once around 3:00am which also doesn't suck. (The next few nights declined rapidly with two wake ups but whatever). It's really amazing how life feels 10000x better with unbroken sleep. Literally felt like rainbows were beaming out of my eyes after that first STTN stint. Also, the slow accumulation of sleep deprivation can really do a number on mental health, huh?
I can't even.
Go, Pack.
And broken sleep also makes me dumber and more forgetful. For example, I put Henry outside for a pee the other evening then completely forgot about him out there, giving Porter a bath, nursing him to sleep, and finishing up bedtime for Truman and Cecelia. It must have been over an hour later that Nate asked if Henry was outside and my eyes bugged out of my head because OMG, I'M A HORRIBLE DOG OWNER! Henry was fine but obviously irritated at me, running around the house all wild and anxious for me to feed him his dinner. Our poor inside dog is not meant to be outside as he is ill-equipped to deal with the wild animals surrounding our house (i.e. raccoons, foxes, etc). Cockapoos just aren't the most fierce dog out there, you know. I refuse to believe that is just how my brain functions with three children, and will blame the broken sleep instead.
The other biggie with a baby, besides sleep? Eating. And not much has changed since my four month post on Porter, but I just want to say that I can't believe I have a baby who doesn't want to nurse. And I still can't believe I'm mixing formula bottles regularly after never using it for the other kids. Neither of these issue is the end of the world and most days I'm fine with it because whatever works! I have the happiest baby who is happy and growing, so I truly cannot complain. But some days I do feel sad and a little surprised by Porter's preference for the bottle and the need to supplement. Every baby is different, yes---but my third child is really messing with my head on this.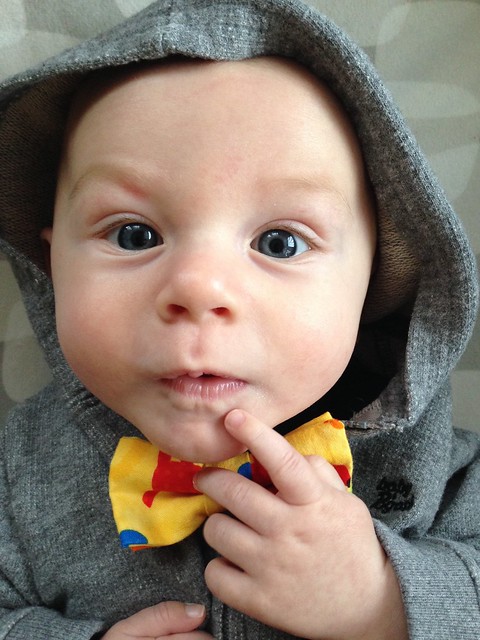 P will nurse to bed and once(ish) in the middle of the night, but those sessions are definitely more for me than him. I'm not pumping quite as much milk as I used to pump which makes sense since I'm not pumping as frequently, dropping the before bed session most nights. It's just freaking exhausting, as I'm sure a lot of you know/can imagine. I'll pump three times at work and maybe once on my days at home but anything beyond that feels like too much. I used to get 12-15 ounces in a work day and now it's more like 7-9 oz. And Porter easily drinks 30 ounces per day because he is a milk hound. We just had his four month appointment and he now weighs 15 pounds and 11 ounces, so back up to the 50th percentile from that 19th percentile mark we hit at his two month appointment. This makes me very happy, obviously, but I also don't feel like I can really 'take credit' for his growth since he's not existing solely on my milk. LIKE THE OTHER BABIES DID SO EASILY.
Six month outfit is a wee bit snug these days
Anyway, a few more grumps to get out about this and then I'll move on. Juggling the pumping, bottles, nursing, cleaning pump/bottle parts is a lot and I cannot wait for a time when I'm done pumping. Giving him breast milk until six months is important to me and I truly hope I can make it happen, but let it be known that I am NOT supermom and this still feels very heavy and hard at times! I wouldn't consider myself an exclusive pumper because half of his bottles are formula bottles, so he's definitely not exclusively getting breast milk like my other babies did. Wah-wah-wah, I know. Really wish Porter would just nurse and we could eliminate all of the extra steps of pumping and bottles---silly babies. There is an easier way to get your beloved milk, Porter! Sigh.
Mr. Independent holding his own bottle and saying, 'Fill 'er up again, woman!'
That said, I am seriously a fool for this child. Like, it's a little frightening and 'out of control' how much I love him. Obsessed would be an appropriate word. My heart literally aches when he smiles or laughs at me and I regularly feel the need to nibble on his sweet skin, sniffing his head a little too intensely. I'm over the top with love for this one, I think. And it's not that I loved Truman or Cecelia less as newborns, or that I love Porter more than them right now. It's just different with number three since he is very likely my last baby. I can soak him in a little bit more, use my perspective on time and motherhood more freely, and cherish his innocence and 'easiness' before he turns into a two or four year old someday;) So many trade offs come along with a growing child and I'm ridiculously excited to see Porter grow up into his own. But oh, the baby days with my last baby are almost too much to bear sometimes. That whole 'your heart grows to make room for more children' is SO true, and right now it feels stretched to capacity.
I should probably formulate an actual post about the topic of having more kids versus being totally done and allllllll of the feelings that come along with that decision, but I don't think I have the energy for it today. But I'll just say that I
yearn
to feel closure on these baby years, and I want a sense of contentment that lasts and isn't interrupted by baby fever once things settle a little more. I want to direct my attention towards gratitude for how much we have, for our three enormous blessings, and not focus on the desire for more. Right now I'm totally content and more than happy with these three (awesome) kids. But JULIA OF THE FUTURE: don't get any wild ideas about a fourth. You are up to your eyeballs in needs right now. And up to your eyeballs in healthy, beautiful, happy children. Don't push it, sister. Look forward to the days of bigger, more independent, FUN kids with a smile and no regrets. Easier said than done, I know, but I feel like I have to talk to my future self while to remember this sense of contentment. Also I know that Nate is 100% done with three and obviously that is a very important factor for our family. I guess he gets a say in these decisions, too. ;) End of the 'tip of the iceberg' on this topic…for now.
What else?
Truman is getting so freaking big lately. Going to school every day certainly makes him seem older, he is physically growing into a long and lanky 'big boy', and he's just maturing with every passing day. For instance, he is too cool to get in many pictures anymore and when he does, it's funny faces only. He's never loved to color or draw until now, when going to school has obviously lit a fire for learning in my boy. He'll request to draw, work in this Leap Frog activity book I bought him, make pictures for people, do math worksheets from school….all of this because he legitimately loves school and loves to learn. This is a huge relief for me because we weren't sure which parent Truman would take after as a school kid. I loved school, was a huge nerd even when I was very young, and looked forward to going back by the end of the summer. Nate despised school as a little kid, was semi-depressed when summer was over, and was incredibly (shockingly!) shy until high school. I'd say both Nate and I were 'smart' and did well in school, but I was most concerned with Truman enjoying it at this point since he is only four years old. I don't worry about him being a perfect student, but he is quite the rule following people pleaser so that may be something he strives to achieve, too. But both Nate and I are really glad that Truman loves school and the excitement hasn't worn off.
He is getting to know a lot of new friends in his class, and has recently had a few play dates with these 'new' buddies. It's funny because up until now, Truman's friends have been the kids of MY friends and so they were somewhat forced upon each other with play dates in the name of mommy dates. On Monday, he spent a few hours after school with a little boy we just met this year--and I do like his mom a lot, too, thankfully! This is all so new, and it definitely feels like 'letting go' of my big boy a little more each time he does something like this without me. Truman also informed me that he and another new friend decided to play at our house….on Sunday. Apparently they've discussed this many times and Sunday was supposed to be the day, but I told Truman that I need to email his mom first. We ended up having this little guy over for a play date here today, again without the parents. The boys got along so well and it is completely entertaining to see Truman in a social setting with a new friend. I get the sense that we will be getting to know a lot of new parents in these school years and it's wild to think that some of our closest friends might not even be in our lives yet.
I can't mention the boys without also talking about Cecelia, but she is turning 2.5 this weekend and I'm going to do my best to hammer out a post all about my girl. I sort of can't believe she is JUST NOW turning two-and-a-half. Seems like she should be three most days;) She is seriously amazing and yet our most challenging kid, so I'm jotting down notes on my phone to properly capture the essence of CC in that post. Not sure I could ever do her justice in one measly little post, though! Those eyes say it all.
Wearing her baby brother's hat.
Gee, I wonder if she has grown much in the past year? Both of them, really---exactly one year later.
I'll end with pictures from the first snow of the season, which was November 16th. We didn't get a ton of snow, just a few inches, but the kids were in heaven playing outside in the white stuff. Cecelia wanted to build a snowman but settled for sledding and snow angels. Truman helped Nate shovel and happily sledded for a long time, and then they all came in for hot cocoa and a fire in the fireplace. Yes. Love it. Porter and I were outside to take a few pictures but then he needed a nap. It's nice to have a baby as an excuse to avoid cold weather activities;)
Wait, I lied. One more thing. St. Louis is still like 'home' to me in a lot of ways, as I was born there and then lived there for eight years during and after college. I worked at a nursing home a few minutes away from Ferguson and when I was a little girl, we went to church
in
Ferguson. My heart aches for the entire city. I'm not going to elaborate more than that----it's just so sad and so emotional, and I pray that St. Louis pulls through this and shows the world that it is a great enough to overcome this turmoil. I can't stop watching the news and reading Facebook statues. Some of the comments on both sides are completely jarring, and it's just so surreal and....sad. That's all I can say. Praying for peace for St. Louis tonight.
Now I'm really done. Off to start baking cookies for Thanksgiving, as apparently I've been nominated to make royal icing cookies since I did it last year. It's been awhile and I'm not feeling inspired, but here goes nothing.
Happy Thanksgiving!